**WARNING: Not-so-pretty stuff ahead...These are detail shots of my recent adventures.**
It's just a part of who I am--- the photographer. So as weird as it may be, I tend to document even the not-so-great stuff, including post-surgery madness. This post shares a few intimate images of the post-surgery fun, including two images that actually show the tube and stitches in my upper breast. I want to assure anyone who is curious/brave enough to scroll through the rest of these that there is no actual BREAST in full showing--- only the upper part of my chest/sternum region, at least 4" above the nipple, which is safely tucked away out of sight in these images. No need to get randy here. :)
But the tube itself is a bit graphic, so I understand if you stop here, move along, and forget this photographic chapter of my life.
The first shot, the one above, is the one that amuses me most. The surgeon herself came into my pre-op room to write "YES" on the left side of my chest-- to ensure we all remembered which side was the one we were working on. That markered "YES" lingered for a few days afterward.
The next two shots show the stitching and tube that is still tucked into my chest, and yes, apologetically, there is also blood here. That is why I tend to stick to black and white pics for this sort of thing. Feels less gory. The sore to the side of the tube is my biopsy site from the week before.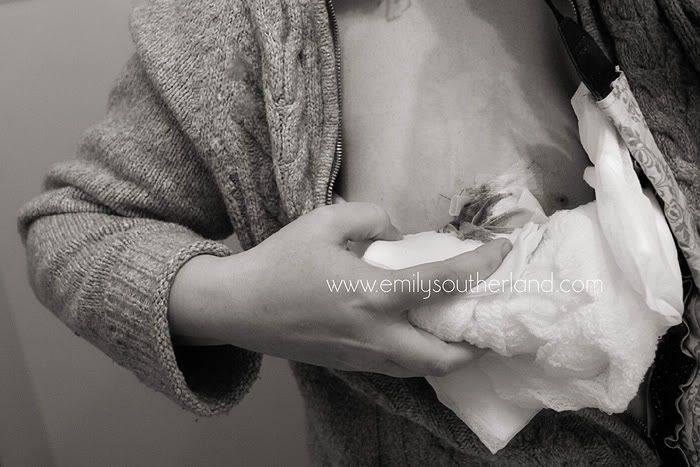 I get to change my gauze pads two or three times a day, to keep the site clean and to help along the draining of that tube. Gross. No way around it. It is gross. And creepy. I think the tube might come out sometime next week. *fingers crossed*

The rest of the pics are tame-- just a few random shots of the electrodes that the nurses forgot to take off of me after surgery, and that I didn't even notice were still on til the day after surgery. Kinda funny...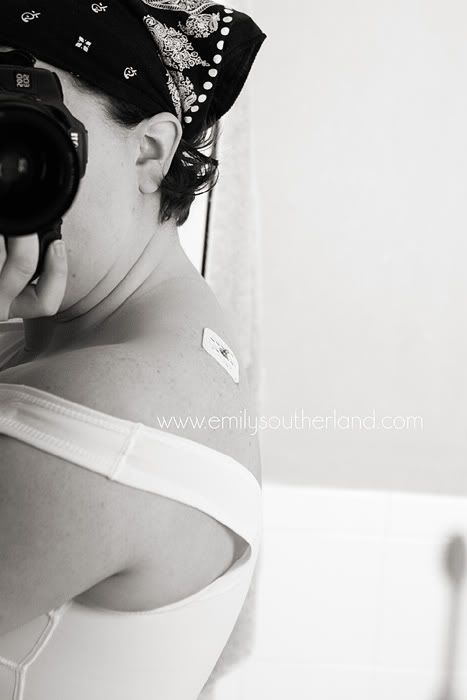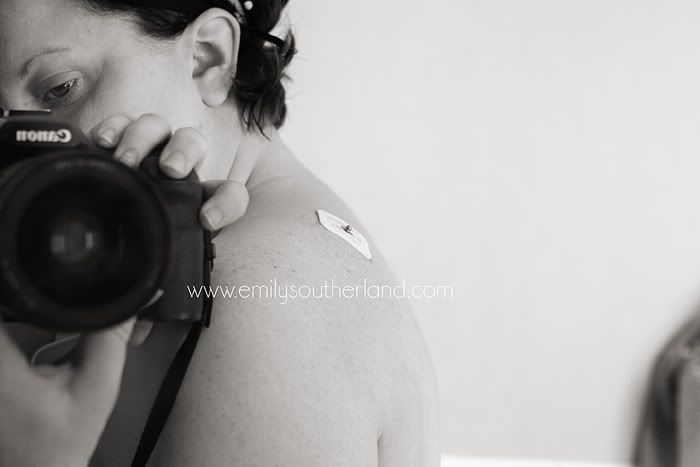 Oh, and a self-portrait of me in my "recovery gear"-- the bad-hair-day bandanna and the industrial strength surgical vest they gave me after the surgery--- to hold me together and keep the dressings in place. Hot.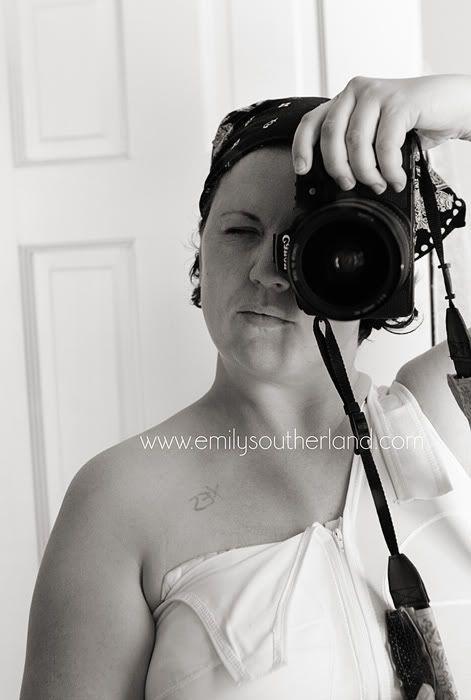 And there ya go, brave readers/viewers. Things in this area are doing okay.... but not AMAZING. The chunky lump is still there, and I simply don't know WHAT they'll suggest next. It doesn't hurt really, so maybe they'll let it alone. *shrug*
Meanwhile, the foot/ankle/wrist/back/joint pain that began the day after surgery has ended up CONSUMING my life this whole week. It is so bad, I am not sure I can convey to you how much agony I've been in. I cannot walk, really. My ankles sometimes throb so much I can't sleep. By Monday, I realized I was unable to even take care of my own kiddo on my own, and had to ask my mama to come get him and care for him for a few days. My hope was that these past few days would be full of rest, and maybe some solutions from my doctor(s)... But instead, the days have been mostly filled with more pain, less answers, and FAR less rest than I had planned. The days, instead, have been filled with being shuffled from one doctor's appt. to another, from one long phone call with a nurse to the next long phone call with a nurse. I've been to a total of FIVE doctors about this whole thing--- from breast to foot pain... And we're still not entirely sure what the deal is. It's kinda scary, and incredibly disheartening.
But.
I get my kiddo back tomorrow-- in time for his birthday. And I feel a slight lessening of the pain today, so my hope is that we are on the downward slope of this horrible era. I want to get back to the good stuff--- to being a mama and an excited mama-to-be... Get back to my sewing machine. Get back to my work. Get back to taking care of my hubby, instead of the other way around. Get back to preparing for the holidays.
I'm ready for some NORMAL to come back.