Since this cute fella's daddy is just about the best dad I've ever known, I knew he needed something extra special for Father's Day. Something unique. Something that played to Joe's "big kid-ness"... AND his taste buds. Something that would put a HUGE grin on his face.
I found the PERFECT answer when browsing my Google Reader blogs the other week:
This DIY "
Hero Supply Kit
", conceptualized and designed by Jordan Ferney of "
Oh Happy Day
" and offered as a free download printable kit through her guest post at the
AlphaMom
blog, is AH---MAY---ZING. Seriously. I drooled for about ten minutes at her clean line design, the utter cleverness of it all, and the presentation of the final kit.
And then I put shoes on Noah and headed RIGHT to the store to recreate one of my own. Because not only is this thing BRILLIANT, is is absolutely, completely PERFECT for my Joe-- a lover of comics and heroes and classic vintage toys... as well as a connoisseur of all snacks. So Noah and I got to work, and compiled our own Hero Supply Kit, just for Joe: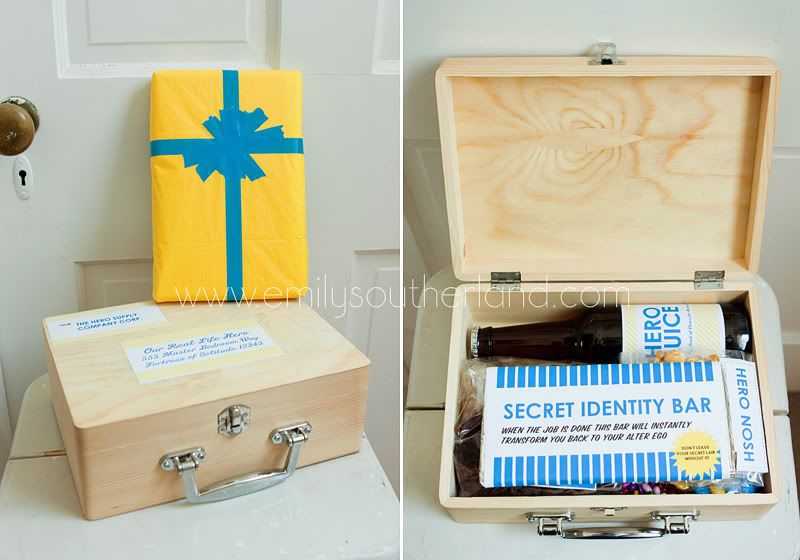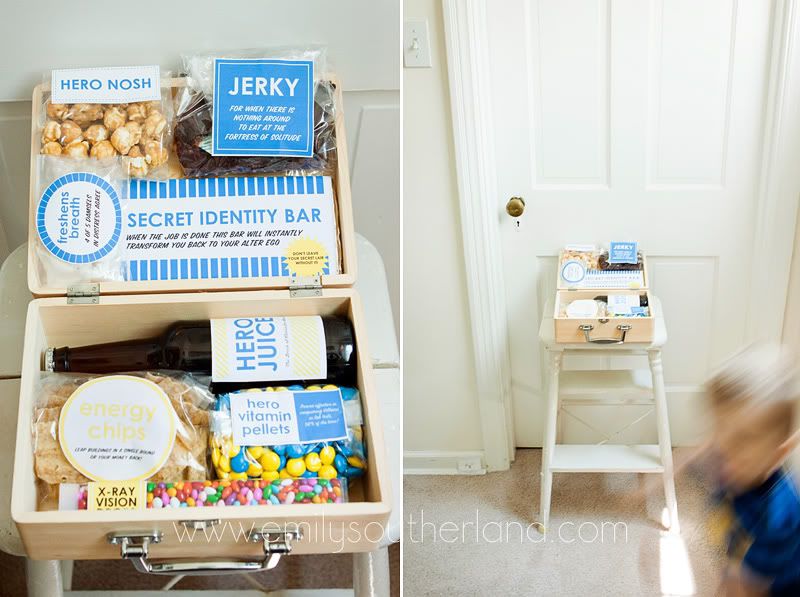 I personally LOVE the "X-Ray Drops" (chocolate covered sunflower seeds) and the Vitamin Pellets (hand-sorted M&Ms.. Hm. Wonder who got to eat all the brown/red/orange/green ones??):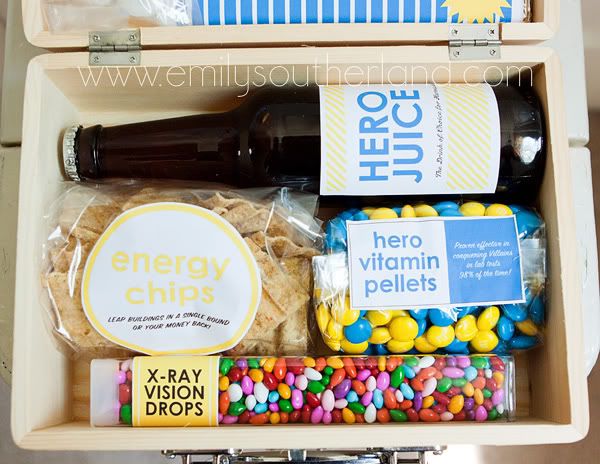 Cute, right?!
And the kid who has given Joe the chance to be the best daddy ever:
(LOVE him. Seriously. My baby is the danged cutest kiddo EV'AH.)
The kit was PERFECT, and the yellow gifty was a fun book I'd heard great things about:
The Year of Living Biblically
, by A.J. Jacobs... The kind of book Joe could get into-- nonfiction, humorous, deep, spiritual, interesting.... Oh, and I also got Joe a Noah-sized baseball glove and ball for him to begin teaching Noah to play catch. Awww!
All in all, a not-too-shabby effort for my sweetie's Father's Day. Noah and I are happy with our efforts, and Joe is pretty much in LOVE with all of the above. Nice!
*
And one more shout-out to Jordan Ferney of
Oh Happy Day!
, the generous and incredibly clever creator of the above Hero Supply Kit: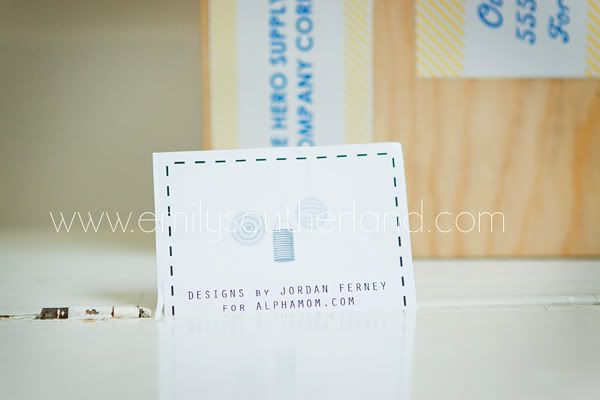 If you don't read her
blog
, you should. It looks like she's done it again with another recent post-- this time a S'Mores Kit to be used as a wedding favor. She is FULL of incredible ideas and inspiration!
*