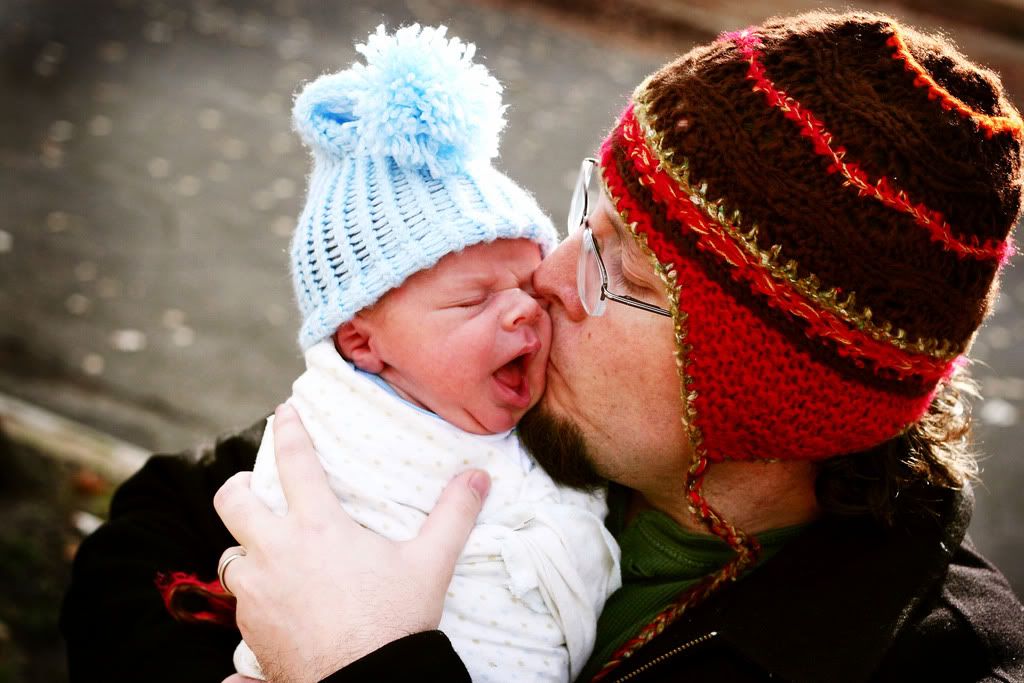 Today, Joe, Noah and I bundled up, took the stroller out, and walked to Starbucks for some hot chocolate and pastries. I had a chocolate chip banana bread and Joe had this cranberry concoction with frosting on top that was to die for. We enjoyed the brisk air, the walk, the together time, looking in at the perfect little baby face tucked in among blankets and the stocking cap my mom knitted him... Altogether, we enjoyed every moment of our little field trip.
Honestly, the image in my head of walking around our amazing neighborhood with a baby in a stroller has been one of my favorite images all throughout my pregnancy. What a lovely ideal. So far, it is living up completely to the dream.
So... while I have posted lots and lots of pictures lately, there hasn't been much wordy substance to go along with them... I attribute this mostly to the new task I've had of balancing weird sleep schedules, new responsibilities, and finding balance among it all. Frankly, I probably haven't been THAT awake these past three weeks. Lately, though, I am feeling like I finally have coherent thought, creative urges, and time to do little things in between all the new stuff (soothing, diaper changing, feeding, sanitizing, lotioning, bathing, dressing, washing, ogling, cooing, rocking, singing, showing off, photographing, etc.). I have even gotten HALF my Christmas gifts done with 11 days left! I might even get the rest done!
Anyway... today's post is dedicated to my thoughts, ramblings and words, to make up for the recent lack. I think it is good for my brain to stay fit with ponderings once in a while, even when the weird sleep routine isn't what it is used to. So I'll leave you with a list of said ramblings--
a.
I AM getting between 6 1/2 and 8 hours of sleep each night.... It's just punctuated with 20-45 minute feeding breaks 3 or 4 times a night.
b.
I MOSTLY feel very calm and competent as a new mom. I give a LOT of credit to being 30, being one of 7 kids, and being the last of my friends to have kids (benefit of lots of observation and pointers!).
c.
That said, I ABSOLUTELY could not remain calm and competent without Joe, who is such a natural dad that it is spooky. (You sure you don't have a few kids tucked away somewhere, Sweetie??) Joe takes Noah right when I feel that calmness start to fray... And his fresh energy gets our son back to where he needs to be, and all is well in the house.
d.
Noah seems to be a textbook baby-- He DOES fuss, but there is always a reason, and if treated, baby is fine again.
e.
His cry is still newborn-y and cute, but I can see that losing its charm eventually.
f.
Noah loves: the swing for naps, the bouncy seat for "awake/observing the world" time, his car seat for naps, the "vibrate option" on above accessories, being swaddled (but not GETTING swaddled. There IS a difference), Dad's football carry, baths, his
Arsenal
binkie, diaper changes.
g.
I currently love: hot showers, Noah sleeping longer than 1.5 hours, little baby socks, the smell of Noah's hair, spooning with Joe every time I get back in bed, walks around my neighborhood, anything thirst-quenching (I am ALWAYS thirsty), getting packages/Christmas cards in the mail (
Katie
, yours is A-M-A-Z-I-N-G), TV shows on DVD, message boards online, making gifts, not worrying about school at ALL...
h.
I feel 95% healed from the birth/surgery/pregnancy... the other 5% involves more weight loss and a few other minor things, but I feel MOSTLY myself again.
i.
Christmas feels like no big deal this year. We have been getting gifts all throughout the autumn because of showers and such, and now we have the best gift of all, so I'm really not NEEDING the whole Christmas experience. In fact, I am MORE emotionally in tune than usual because of Noah and Joe, and I don't need Christmas stories/movies/moments to bring that feeling to the surface.
j.
having said that, when I DO reflect on the real reason for the season, I get
really really
choked up as I think of that teeny little baby being born, because, well... isn't it obvious? God REALLY loved his son, didn't he? I think I'm getting it, REALLY getting it, for the first time this year.
...On that note... Thanks for coming along with me on this wandering, rambling entry. It's nice to be in my own head again, if only for a moment.
Happy Friday!