Though I've not blogged much about it, I've managed a few crafty moments in spite of the exhausting work of growing a human being these past few months. One project I've meant to share, because I loved how it turned out so very much, is a set of tote bags I made early in the summer--- one for my sister for her birthday, and one for myself because it was too cute not to claim one of my own.
Glorious in their roomy denim modern-pattern handiness, here are the two All-Day Totes I stitched up: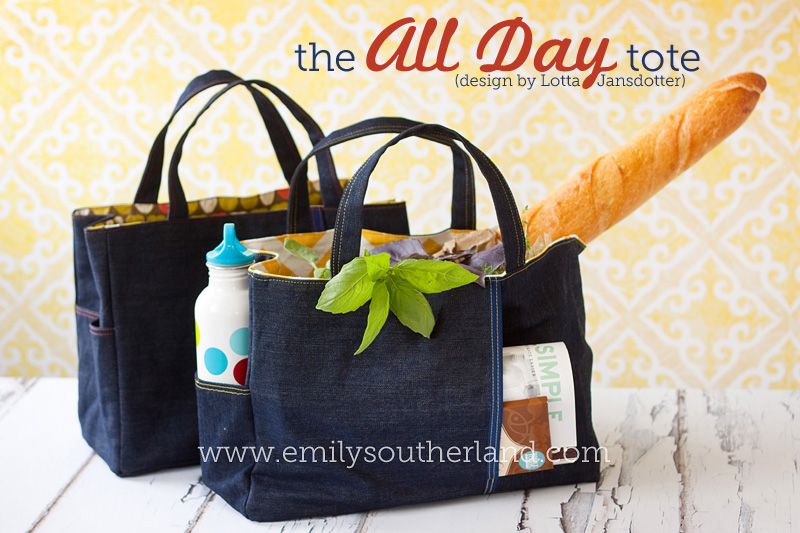 It is one of the first sewing books I purchased, back in 2008, and it has lots and lots of fun sewing projects for the home ranging from simple to advanced. The very first thing I made was this yoga-mat tote, made to hold my mei tai sling. Easy. At the time, I never thought I'd be a confident enough sewer to make the All-Day tote. Oh how cool to be here, 4 years later, and whipping out "advanced" projects without batting an eye. Proud moment.
So, the All-Day Tote: My versions are a sturdy dark denim on the outside and colorful home decor-weight fabric on the inside- a trendy cheerful yellow chevron on the inside for my sister and a fall-y apple print for mine.
A peek at the fabrics and details (I double-stitched a lot of the outer stitching, all for looks. It looked cuter that way!):
There's a side pocket for phone, keys, water bottle or whatever.
And a vertical front pocket that is not super useful, in my opinion, but looks cute with a magazine or newspaper poking out of it: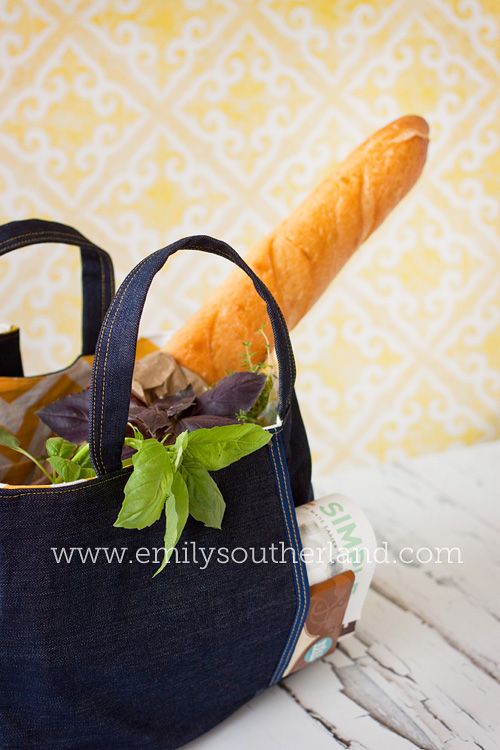 It's roomy-- this one was packed up for my sister's birthday with two different basil plants, a thyme plant, some chocolate, a Real Simple magazine, and a giant baguette. Because she is chef-y, and I knew she'd work some magic with the herbs, the bread, and probably some kind of goat cheese and tapenade. She's pretty marvelous.
Mine has ended up far less cosmopolitan in its daily contents: it has become the home for a few spare diapers, a big pack of diaper wipes, a few strands of mardi gras beads (Lucy puts them all around her neck and chirps, "Ditty! (Pretty!)"... A few applesauce pouches, a few granola bars, a sippy cup, a superhero water bottle, a bib or two, a board book or two, an umbrella, rogue Fisher Price people and Transformers, and some crumpled receipts.
But since that's not so pretty to photograph, let's admire my sister's gift bag again.
(Oh, baguette, basil and metal water bottle- you are so pretty. You hold such promise of tasty, stylish moments to come. I love you.)
And I am happy to report, a full summer later, that my tote has held up to the demands of its diaper-bag fate. Which means if you more stylish cosmopolitan types whip one up for your baguettes and herbs, I think it'll definitely meet the challenge. It might even manage to successfully tote a full rack of lamb wrapped in butcher paper fresh from the meat market, as well as a packet of gourmet toffee from the local chocolatier and a pouch or two of quality hot cocoa powder for later. (Can you tell that in my mind, this tote was destined to live in Paris or something??)
So. Get thee the Jansdotter book and get sewing! Or, if that proves to be too much of a task for you, at least go treat yourself to some artisan bread and a latte or something. You've earned it, reading through this silly post.