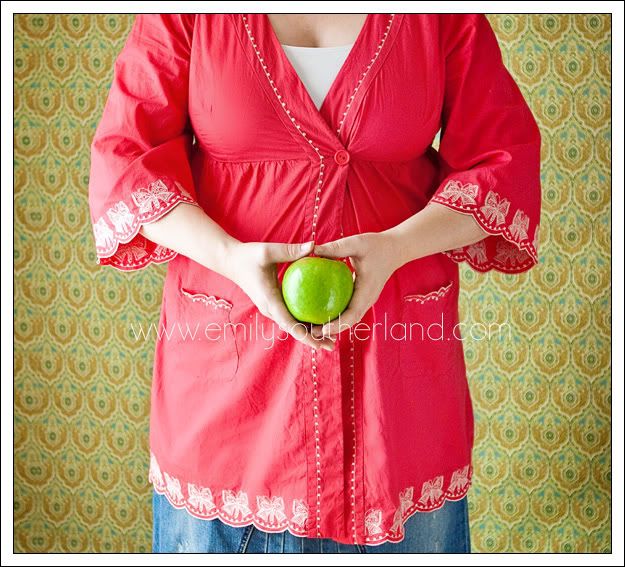 My Sweet Apple:
It's funny to be writing you like this… In many ways, at many moments of the day, the reality of you escapes me, and I forget that you are, indeed, blooming and growing and becoming the baby I will hold in six short months. It's different this time—with your big brother occupying most of my daytime thoughts and efforts, and the sheer exhaustion of creating you occupying the rest of the hours of the day--- I have less time to sit and dream of you like I did with him, and sometimes I have to remind myself of the magic that is happening within me at every moment of my life right now.
But still, when I take the time to pause, I can feel you there… A wee little apple deep within me, working at least as hard as I am to CREATE yourself. 16 weeks. Amazing how in a mere 16 weeks, you have grown from something so small the eye can't detect it, to this incredible, miraculous little one I might be able to hold in the palm of my hand. The weekly updates from the baby websites designate a fruit or vegetable for your current size, and that charms me. One week you might be a bean, the next week a cherry tomato… And eventually you'll be a coconut, then a pineapple,, then a cantaloupe… And in the blink of an eye, you'll be REAL. In my arms.
I have longed for you for the longest time. Since before I knew your father… since the time I felt my purpose must be to bring children into this world and raise them as dearly as my own parents raised me. If it be my destiny to have children, I was ready. But it's funny how that yearning grows so much more intense once you've had one already.. then are made to wait and wait and wait for the next one. Watching your brother, Noah, grow, amazing us with every new day, it seemed we'd never get to share a sibling with him. And the joy he brings us—such a powerful joy. It can only get better with the addition of you.
My sweet apple--- I am so excited for you. Excited to feel the first movements of your kicks and bumps within me, excited to see your profile on the ultrasound in a few short weeks. Excited to begin making a quilt for you, to begin collecting treasures for you. I am excited to see your brother learn to include you in his world. I am excited to see who you are, and who you'll become.
You are a gift. I cherish you and I cannot wait to be your mama. I won't be perfect… I will lose my patience and feed you easy, less-healthy food sometimes.. I will disappoint you sometimes, probably… But I promise you--- I LIVE to be your mama. I LIVE to make our home a haven of peace and knowledge and music and beauty and creativity. I am honored to be given the stewardship of your young life, to help you become someone this world needs.
Welcome to our family, sweet one. This is just the beginning. Things will get even more incredible come April. I can't wait.
I love you.
Mama
So yes... It's time to officially tell the world-- we are pregnant, and having a sweet little one due April 11. Sixteen weeks, and everything has been really, really good. It really IS harder to grasp onto this reality this time--- life keeps taking over and I keep thinking I should have the energy and strength of my old self... Until this whole thing knocks me off my feet every evening and I barely stay upright through my worktime and late bedtime.
I'm trying to be in the PRESENT, and love every day... Yet this crazy fall photo season threatens to take that from me all the time. It's been a bit nutty. But things should slow down very very soon, and I cannot wait to begin to settle in for a winter of comfort, family, and incubating this little one to full term.
And the apple theme? Well, when I began this letter last week, this little babe was "about the size of an apple"... But now, at week 16, they're telling me "avocado", and that's just not as cute. So you get an apple.
And the boys were cool with being a part of this fun, too, so we'll end with them: