Hi, guys! Happy Saturday! I think I told you I'd pick a
contest
winner today... Right? :)
So actually, last night at about midnight, I went back to all the comments and made a list of the participants... Here:
(That's my work calendar and work notebook... This is
totally
7 inches from my semi-permanent position at the computer each night...
haha
! )
After creating the
list
and numbering it, I went to random.org to get a random number for the winner... At 12:25am, I got our winner: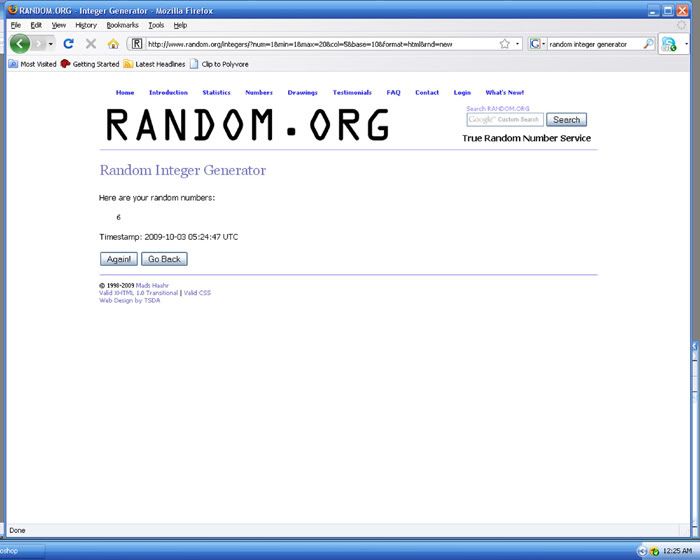 Did you go back up to that semi-blurry list to see if it was you? 'Cause Amelia, it is totally YOU!
Wahoo
!!! Trader Joe's Pumpkin Butter, $10 to Starbucks,
Pumpkin
Spice Hershey's Kisses, Caramel Apple Pancake Mix, and Pumpkin dish towel... all for you you you!
Wa
-
hoo
!!!
As for the rest of you, if you couldn't tell from my comments, I utterly LOVED your entries. LOVED the way you all think and the things you value. LOVED seeing some incredible photography, and loved seeing little pieces of each of your worlds. I loved it so much that I think I'm a-gonna do another photo scavenger hunt really soon. Just to break up the soon-to-be winter blahs that always set in. so keep an eye out!
But... It isn't winter yet. It is my FAVORITE season of the year, and we are knee-deep in it. Leaves are actually turning colors, jackets are actually being required.... It is REALLY Fall! And in honor of my Fall-y contest, I wanted to give you mamas of young kiddos out there a simple craft idea for you guys to do to get some pumpkin decor going up.
My friend
Stef
subscribed me to Family Fun magazine, which I LOVE, and they had a big article about decorating with
PUMPKINS
PUMPKINS
pumpkins
[always think of Abby on Sesame Street when I say that! anyone with me?]... And I LOVED the idea of
really
going pumpkin crazy this year... So among other things, this little "Morning Art" crafty has been a successful decor-creating project for Noah and I.
And it is WAY easy. And pretty easy to let yourself throw away at the end of the season.:
* TORN PAPER PUMPKINS *
1. Start with orange and green paper-- solid construction paper,
cardstock
, or, as seen here, old
scrapbooking
paper. With your kiddo, tear lots of medium-sized pieces. There is no way to do this wrong, so let 'em at it!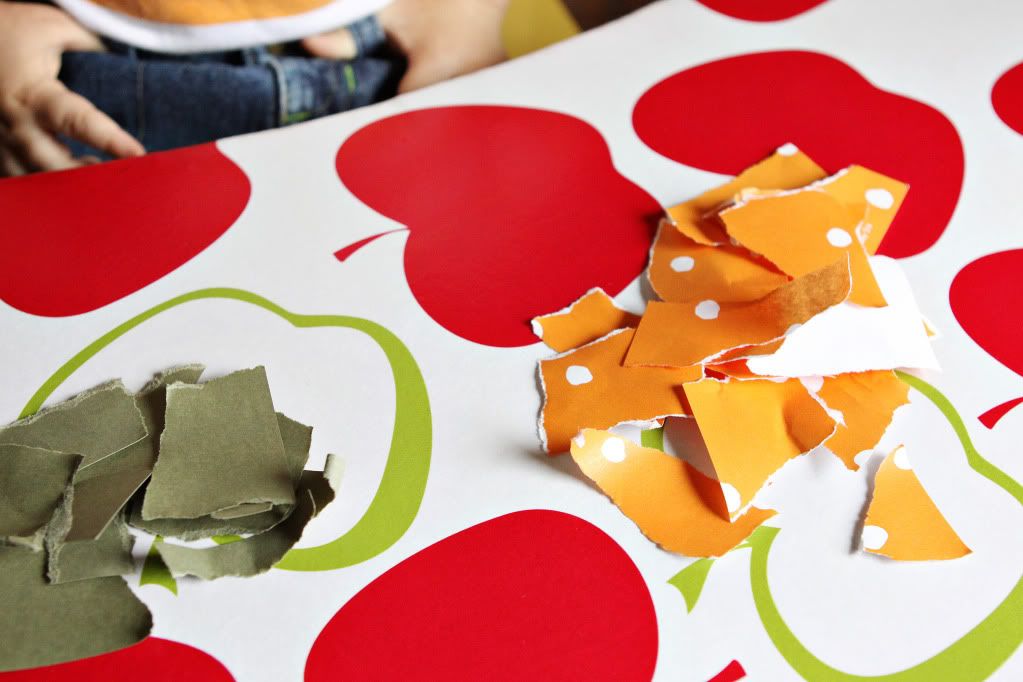 (See how proud Noah is of our handiwork so far?
haha
!)
2. Grab some packing tape. I have TONS of this around the house because I package
prints
and stuff all the time... Take a strip about 5-8 inches long and turn it sticky-side-up. Begin placing pieces of orange paper on the sticky tape in the general shape of the
pumpkin
. Little hands can help here with very little fuss. Add more tape as needed. Add a green stem.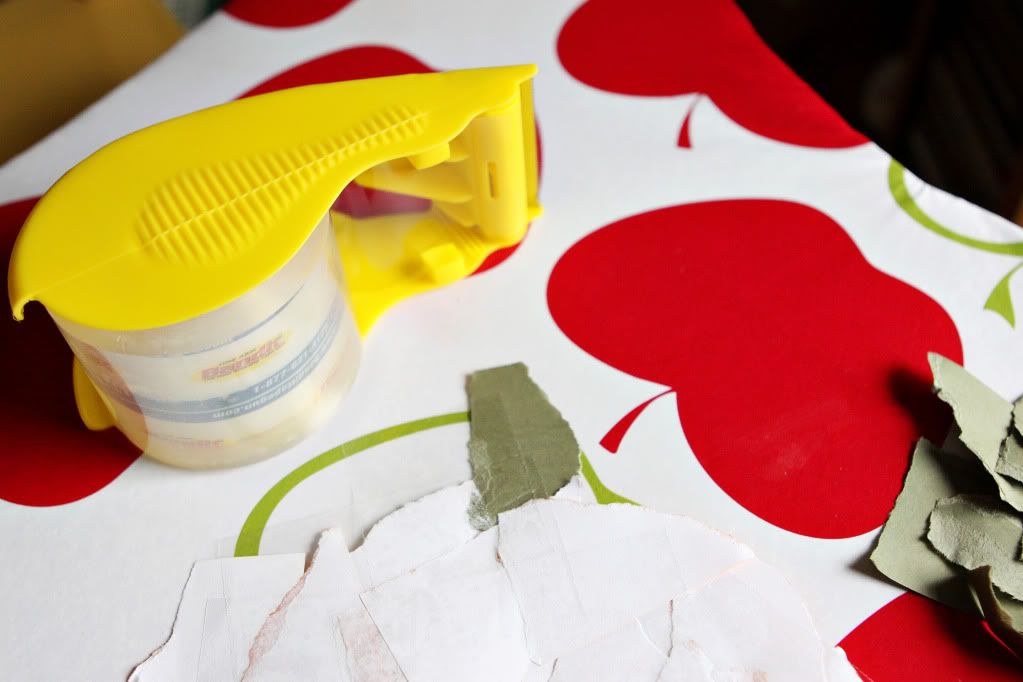 3. When you get done, you should have a pumpkin-
ish
thing. I ended up using about three strips of tape side by side to get this
pumpkin
.
4. Next, you have two options. For our first pumpkin, we
modge
-
podged
the top to seal those loose papers. This worked OKAY.... But it was a bit messy. If you really want to keep it simple, do what we did with
subsequent
pumpkins-- Tape the top of it, too. Basically "laminate" the whole thing with packing tape. No mess.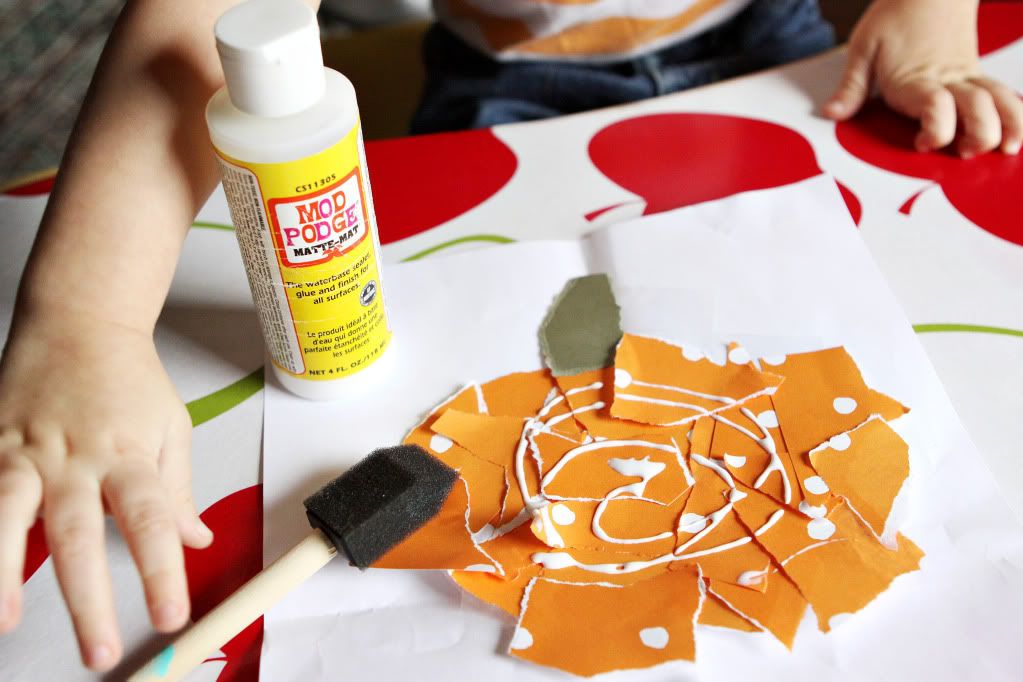 5. If the raggedy, non-rounded edges bug ya, (and if you have taped the top instead of glued it) take your scissors (probably best if YOU do this part, and not your little one, unless they are 4 or older)... And trim it a bit. I tried to keep some of the rough, torn look, but I trimmed until it looked "finished".
And ta-
da
! Shown here with our Owl Googly Eye Morning Art and, you got it, a PUMPKIN. (Noah LOVES the real thing. He tries to lug it all over the house, and I fully expect to be cleaning up accidental pumpkin guts before the fall is through!)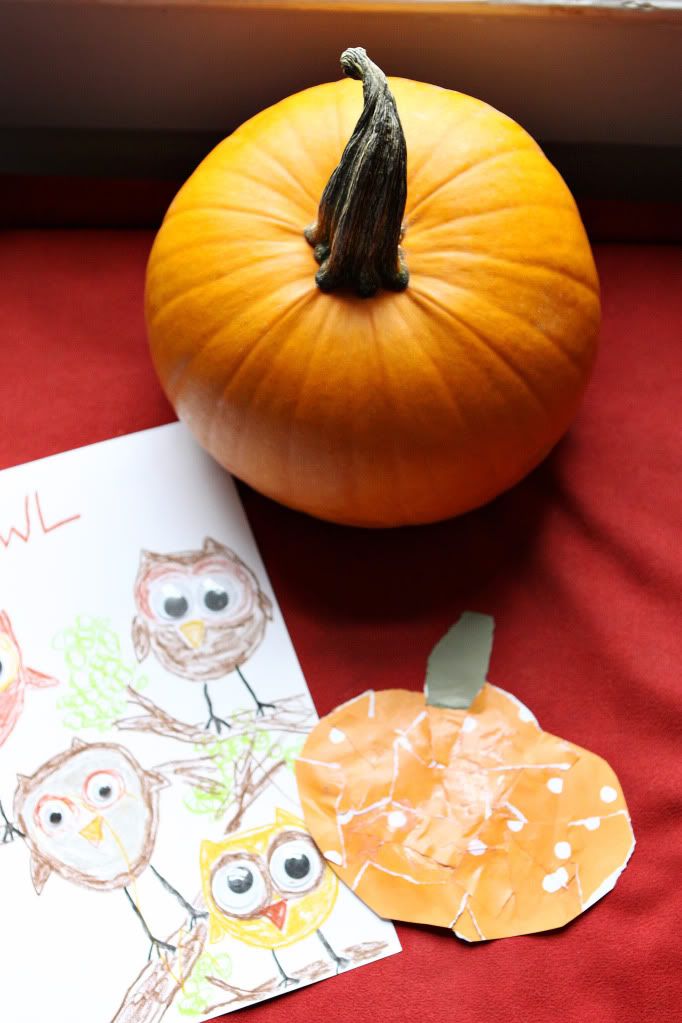 We have our paper pumpkins in our windowsill, but they can go anywhere--- tape 'em to the door in a cluster as a welcome, stick them on your fridge, make a garland of them (ooh, that's a cute idea!). Make Jack-O-Lanterns as you get closer to Halloween... The possibilities are endless.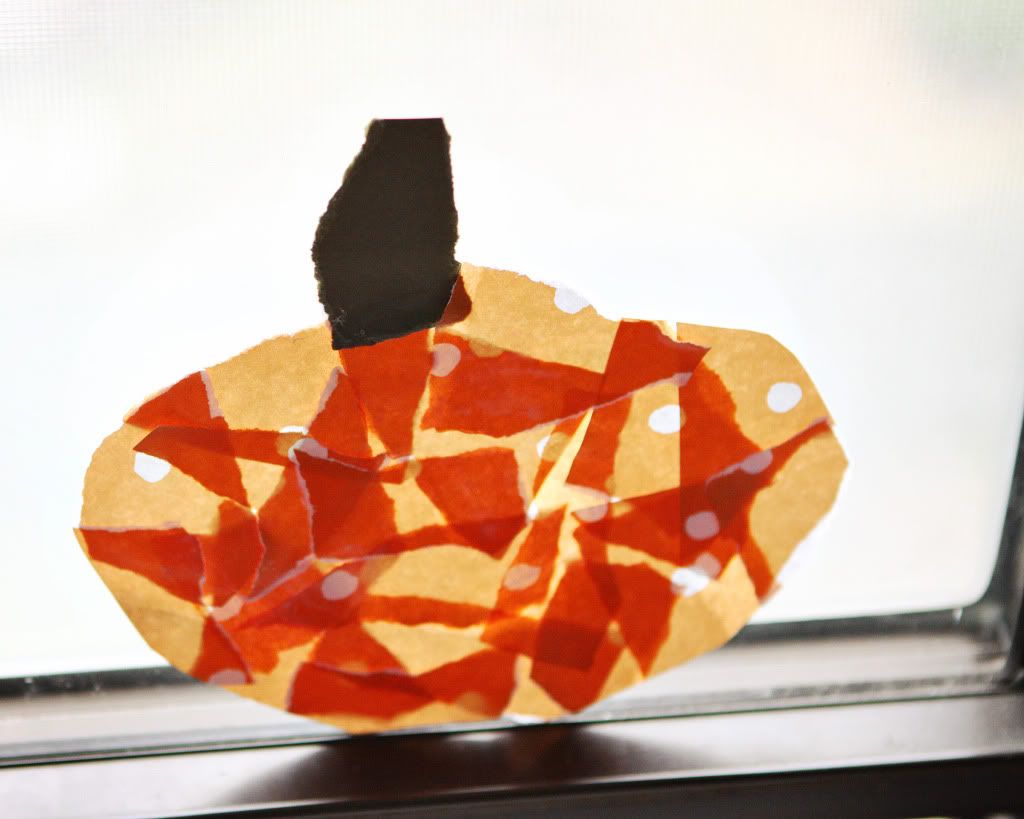 Mostly, just enjoy having some quick, pretty painless art time with your kiddo as you celebrate fall.... the best season of the year!
Off I go now--- been blogging WAY too long this morning because of a slow
internet
. Time to unplug and be with my kiddo and get some stuff done.
happy weekend, all! (Amelia, your prize will be
wending
its way on Monday or so!)