I'm loving the Christmas 'round the Southerland household..... Little details, fresh pine scent, simmering cloves/cinnamon/nutmeg/oranges on the stovetop...Cheerful colors and twinkly lights.... I love this season.
Front door wreath (mega sale at Joann's this year... Jackpot!) (And I'm a sucker for striped grosgrain ribbon, so I had to add some.) and I decided we needed a mantle-scape this year. What good is a gorgeous fireplace mantle without doing something new with it once in a while??
More mantle-ness. Joe gets the biggest stocking. Noah chafes at this truth. And how perfect is a red room at Christmastime?
Detail shot of my childhood stocking, crocheted by my Aunt Jerri when I was a baby. My nickname from age zero to age four: Emmie. The metal pin-back still on there used to have a Mickey Mouse pin on it. I don't know why. I still have the top part. I should glue it back on.
On the left: a piece of our Christmas tree-- fresh and real, of course. Worth the needle-spill. On the right: I made a hasty pom-pom garland for the mini-trees on the mantle. Cute enough. Next year, I want to make stuffed felt stars. Tiny ones.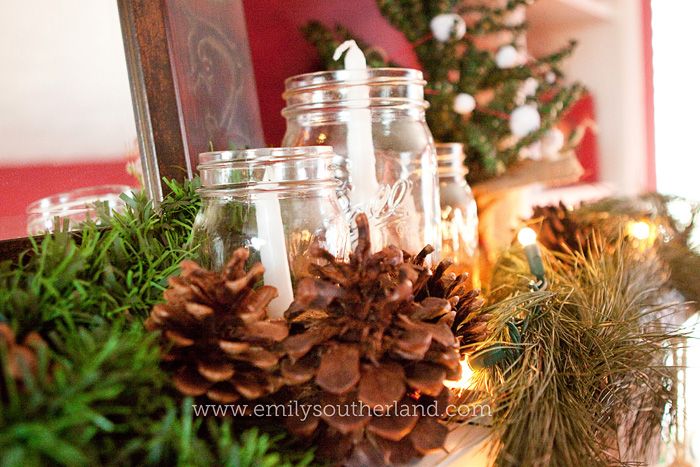 The pine cones are the ones you can buy that smell like cinnamon. What a brilliant idea, cinnamon-scenting pine cone company.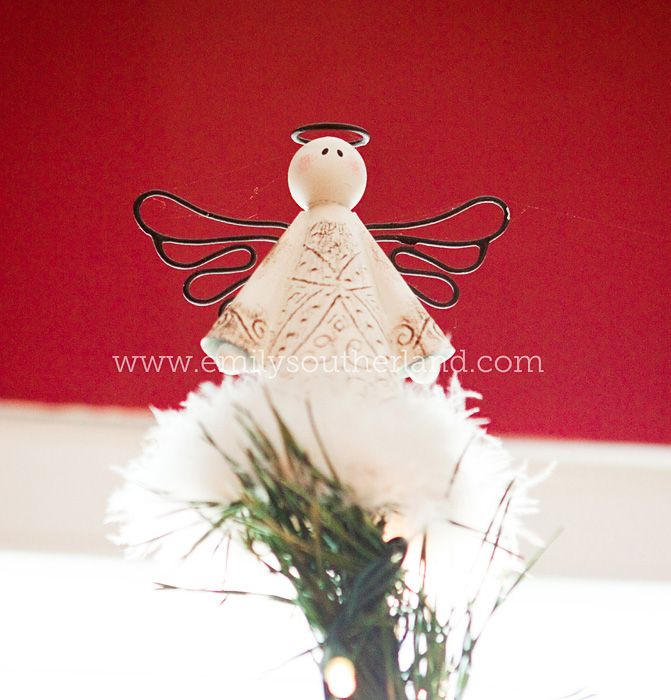 This lady has been atop our tree since before we were married. She's sweet. Look at her gently blush at her starring role.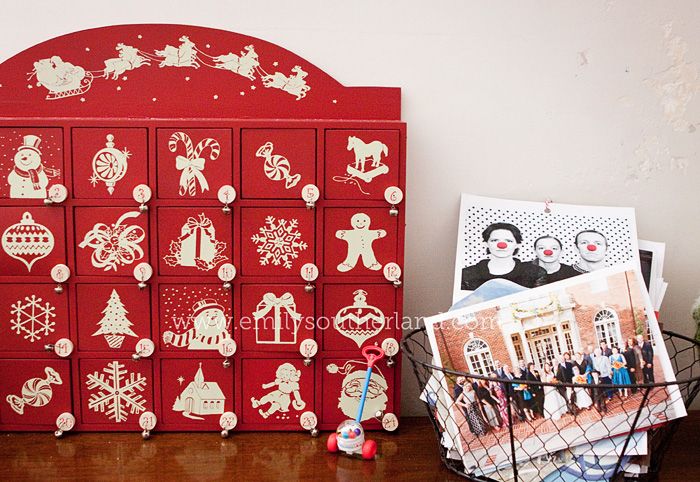 Our new advent cabinet-- Noah calls it, without fail, the "Alvint Calendar." AL.VINT. Very pronounced. It's the first thing he requests in the morning. We've chosen to fill the cubbies with a slip of paper with an activity on it, rather than a treat or an ornament. Actually, I think I talked about this advent filler last year, when I did envelopes strung on the mantle. Yup. Here it is. Next to this alvint cabinet is my new little Fischer Price ornament for the year--- the corn popper toy. CUTE??!!!!! And our Christmas card basket (Melissa, I'm sorry yours seems so prominently displayed! I wanted to see the pic so I have it in there open, and now it's the tallest one. But really. the clown noses? Brilliant.)
And a little more cheer on the calendar wall of our kitchen: the calender itself says, aptly, "I can resist everything but temptation." And geezo this season has been extra hard on the temptation gland with my gestational diabetes and the toffee and the Joe Joes and the sugar cookies and the fudge and and and........
ANYWAY. Also in this tableau is my other childhood stocking-- a felt crafty made by my mom with my FULL name, Emmaline. So all throughout childhood, I had two stockings. The gift one ("Emmie") that was by the chimney, and the food one ("Emmaline") that had a cute little breakfast tucked into it on Christmas morning (Clearly, some breakfast lingered on that poor old stocking years later. Don't know what exactly that stain is, but it's probably harmless.). Seemed appropriate to hang this one in the kitchen. And that scrappy "S" is my newest gift from a dear friend (Thanks, Melody, it is PERFECT.)
And with Pandora constantly playing Christmas music and cocoa/choffy constantly being made and sipped 'round here, and with the book advent going on (again, see last year's post, midway down, to read more about that), we're definitely holly jolly at the Southerland house. It's been a marvelous season--- truly very low-stress, even with my business keeping me busy and Joe's school and work keeping him hopping. We seem to have managed to stay calm, slow, and ahead of the game a bit.... and have been enjoying just being a family when we do get to be together.
Here's to this last weekend before Christmas having moments of that lovely, slow family-ness for you, too. Even if it is only for a few moments in between the frenzy.